CHIC DNA Repository Update
The CHIC DNA Repository collects and stores canine DNA samples along with corresponding genealogic and phenotypic information to facilitate future research and testing aimed at reducing the incidence of inherited disease in dogs.
When is it appropriate to update a dog's record? If a dog tears a cruciate, bloats, develops laryngeal paralysis, lymphoma, osteosarcoma, hip dysplasia… even if they are deceased and died with no apparent health issues, OFA needs to know. They need this info to flag the sample to show up on internal queries when scientists request samples to study specific diseases. Note that none of this info is put on the dog's visible record. It's all internal flagging for database queries at researchers' requests. The NCA is offering this form to make this process easy to complete- we do not have access to or track any of the information you put in. The only information that NCA/Health and Longevity/Digital Distribution will receive is how many times someone has hit "send" and used the form.
Making it easy to update your dog's DNA records at OFA!

It's easier than ever to update your dog's health status if they have DNA banked at OFA! Owners can use this simple form, hit send, and the info goes directly to OFA. Need to look up information on your dog? Visit the OFA
Have feedback or questions about this form?   Email us at health@ncadogs.org
"The CHC DNA Reposiitory stores canine DNA samples via blood or buccal swabs for future health research efforts. The bank has over 27,000 samples representing many different breeds. There are currently 1810 Newfoundlands with blood samples banked in the CHIC Repository. More than 3000 DNA Samples from the repository have been distributed to a variety of research in stitutions all over the world. While all samples may be of potential usee, the majority of the bank's samples represent young, healthy dogs at the time of collection. However, the most valuable samples are from affected dogs. Periodically updating the health information of dogs will increase the value of the sample and the likelihood of its use." - Eddie Dziuk, OFA
A listing of some of the diseases and diisorders where researchers have looked for samples ofaffected dogs.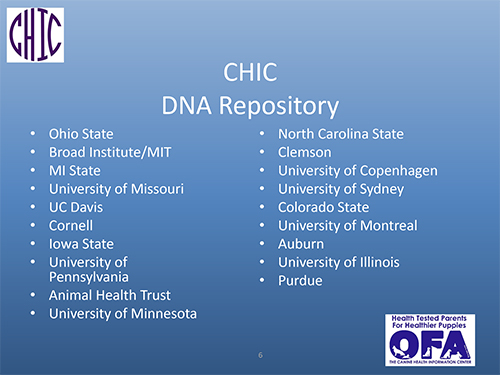 Some of the institutions that have utilized samples from the CHIC DNA Repository.